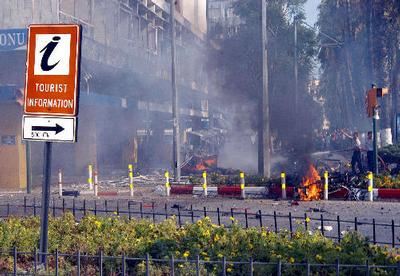 Network Europe
Turkey has experienced a week of violence. Last Sunday 4 bombs hit a major tourist resort and Istanbul the country's largest city, injuring 27 people including 10 British tourists. While an explosion in Antayla killed 3 and wounded 2 dozen more. A group fighting for Kurdish rights called the Kurdish Freedoms Falcons claimed responsibility for Sunday's bombing and warned foreign tourists to stay away from Turkey. The attacks have again put the national and international spotlight on the 20-year struggle between Kurdish separatists fighting the Turkish for an independent homeland. Security forces across Turkey are now on high alert following this week's attacks in Istanbul and the coastal resorts of Marmaris and Antalya.
Over two dozen Czech neo-Nazis were arrested in Prague this week, after a protest outside the city's Israeli Embassy. Most of them belonged to a group called National Resistance, who recently asked the Czech President to be allowed to join foreign armed forces to wage war on Israel. How strong is the neo-Nazi movement in the Czech Republic?
For years, the world seemed to ignore Somalia's military and political battles. When the United States tried military intervention, it ended with a hasty retreat as clan warlords ordered dead American troops be dragged through the streets. Now there is renewed interest in trying to find a settlement and see the creation of a viable government. It's fuelled by fears of a country without a real government becoming the perfect hiding place for terrorists and fanatics. Then there are worries over the conflict spreading beyond Somalia's borders - and the river of illegal arms flowing into the country, despite a UN weapons embargo.
In France, the traditional church is struggling to attract new blood but evangelical and charismatic ones are rapidly gaining ground. The country is warming to services that focus on miracles, gospel singing, adult immersions and speaking in tongues. One American preacher recently attracted an unprecedented 4,000 people a day to a meeting, swelling the ranks of France's half a million evangelical followers.
Ask locals in the German city of Munich and they'll tell you that they have great beer. They might also mention that, with a national high of sunny days, the state of Bavaria is the California of Germany. While Munich doesn't have a Pacific Ocean or a Malibu Beach, that's not stopping intrepid locals surfing. Albeit on the local river The Eisbach. Deutsche Welle's Guy Degen reports.