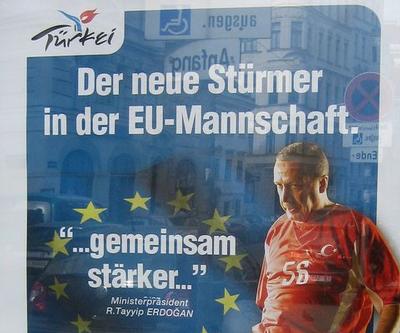 Network Europe
Turkey's chances of joining the exclusive EU club took another downturn this week. The issue of whether Turkey joins the EU has become one of the most divisive issues in european political life. The question many want answered is if it were to become a member, would Turkey become more European or would, as some western Europeans fear, Europe become less secular? The European commission released a much anticpated report on Turkey's accession progress on Wednesday and it didn't make for cosey bed-time reading for Ankara. Turkey was attacked on its human rights, religious freedoms and its attitude towards the divided island of Cyprus. There wasn't a call for a suspension of talks but the report's bound to fuel speculation that Turkey's whole bid is going off the rails.
There's been much talk about what EU integration will bring to Romania. Money of course is one thing. There'll be more funds than Romania can probably absorb. Then there's a the huge number of regulations and standards that must be complied with. That's what the average Romanian knows about the European Union. What fewer Romanians ask themselves is what Romania will bring to the EU.
As Turkey chews over what more it needs to do to win EU membership, the Turkish army's flexing its muscles in domestic politics. The chief of staff has warned prime minister Tayyip Erdogan that the secular state is facing a threat from fundamentalist Islam. The prime minister's in a difficult situation because conservative muslims form the backbone of his support. But the Turkish army, along with the middle class, fiercely defend the separation of state and religion - something many in the EU would applaud.
Thousands of people in France are resorting to living all-year round in camp sites. People on low incomes are on waiting lists for years before they're offered low cost public housing. But in recent years rents in the private sector have skyrocketed, and landlords are expecting a long list of guarantees from tenants before they'll hand over the keys. You might think living on a campsite is an extreme option but more than a hundred thousand people have taken it. RFI went to meet some of them.
A recent study revealed a massive increase in the number of overseas students enrolling at universities in the UK. In fact, the number has more than doubled since the mid 1990s. What's led to this huge rise, and what impact is it having on university education in the UK? Radio Prague's Ian Willoughby has been finding out.
What's making the headlines in the European capital? And what's going on behind the scenes? Our EU insider looks back at the week's developments - click here for the latest edition of Brussels Briefing.