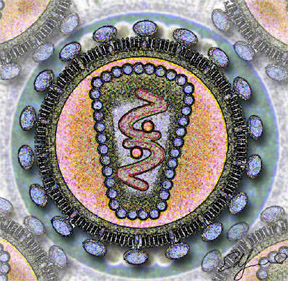 Network Europe
It's come from nowhere to being one of the world's most devastating diseases in just a quarter of a century. It's an extraordinary statistic, but 6 million people die from HIV/AIDS every year. The first case of HIV was in 1981. Network Europe spoke to Dutch AIDS ambassador Paul Beckers who's been analysing the UN's new statistics on HIV/AIDS for 2006. He told us there's good and bad news in the figures.
Ever since scientists identified HIV, fear, denial and stigma have accompanied the AIDS epidemic. In many countries around the world the disease is closely associated with discrimination. Individuals affected by HIV have been rejected by their families, their friends and their communities. In Cyprus the official number of HIV positive persons is around 500, but AIDS support groups estimate the figure is four times higher. A significant figure for an island of less than one million people where everybody knows each other. Cypriot society believes AIDS is not a problem, but prejudice is killing HIV sufferers. Deutsche Welle reporter Barbara Gruber traveled to the Mediterranean island to investigate.
Sweden has designated the fight against HIV/AIDS as a central focus of its development aid policy and is investing heavily on prevention in the fight against the killer disease in developing countries. But as countries around the world finally pour millions into the cause - coordination of the prevention efforts sometimes takes second place - with money being wasted - despite the best intentions. In the run-up to international aids day - and the 25th anniversary of the first confirmed case of HIV, senior representatives of aid organisations around the world gathered in Stockholm to compare notes on strategies in the international fight against HIV/AIDS.
There are increasing signals that France is gearing-up for an American style Presidential election campaign. The campaign for next spring's poll is not officially under way, but in fact it started months ago, and that alone, is American. Last week Ségolène Royal was elected candidate for the socialist party after an American style primary campaign, which included three televised debates with her two party opponents. Card members of the ruling centre right UMP party will choose their candidate on the 14th of January. Radio France International's Nick Champeaux zooms in on the two main political figures in France, Ségolène Royal and Nicolas Sarkozy, and attempts to find out who is the most American.