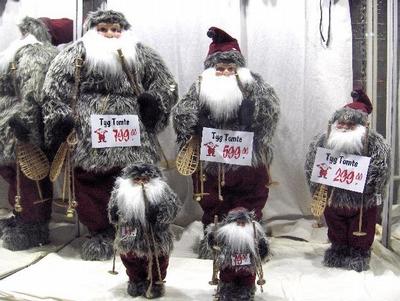 Network Europe
Despite the lack of snow in Europe for a white Christmas, people across the continent are getting into the festive mood. In Germany drinking Glühwein - a hot spicy wine - at one of the many beautiful Christmas markets is a must in the run up to the festive days. In Paris you shouldn't miss the capital's famous Christmas decorations - every year the "Grands magasins" sees department stores battle it out for the most lavishly decorated and lit shop windows. But no matter where you are, how you celebrate Christmas often reflects both traditions and changes in society. Radio Sweden looks at how traditions in Sweden have changed over the years and the way Swedes now celebrate Christmas.
Let's face it everywhere you turn at this time of the year you can't help but bump into a fat man with a white beard dressed in a red suit. Santa Claus is everywhere - on shopping bags, in shop windows - you name it. But Santa is a relatively new phenomenon in the Czech Republic. A similar figure, Mikulas, visits children on December 5, while presents are delivered on December 24 by the Baby Jesus. Some Czechs resent the ever-present Santa Claus - saying the figure has a negative influence on Czech kids. Taking matters into their own hands, the Creative Copywriters Club has set up a website with a simple message: Santa go home! Radio Prague caught up with David Koenig from the club at a shopping mall in the Czech capital.
The French capital always draws hordes of tourists from all over the world, particularly around Christmas. And there are several reasons for that. First, buying Christmas presents in the capital of Haute Couture is the ultimate chic. Paris is also referred to as "the city of lights", and the Christmas decorations only enhance the capital's reputation - especially the Eiffel tower with its special Christmas coat. Nearby the new Quai Branly Museum for indigenous art is organising special events during the festive season. As RFI reports the museum has drawn upon its outstanding indigenous artwork collections to present "African Christmas".
The Little Match Girl is one of Hans Christian Andersen's most popular fairy tales. The little girl selling matches on New Year's Eve lights one after the other in order to capture the illusion of warmth. Like many of Andersen's tales it has a dark and bitter side. The little girl freezes to death in the snow. British songwriter and composer Martyn Jacques captures this fairytale in 12 songs he wrote for a special theatre production. He's performing the Little Match Girl with his trio The Tiger Lillies and touring Europe.
Slaughtering the swine a few days before Christmas is a strong tradition in Romania. 60% of the people live in the countryside and they are keen on this tradition. Iulian Muresan traveled to a village in Transylvania to catch the moment on tape.