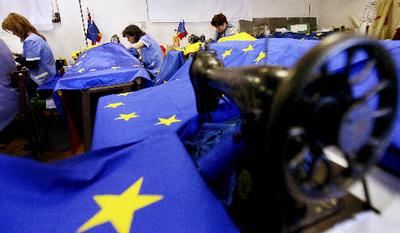 Network Europe
Come what may in 2007 Britain will have a new Prime Minister and France a new president. The EU will celebrate its 50th Birthday and Germany will raise taxes and finally catch up on anti-smoking laws. Daniel Franklin executive editor of the Economist takes a closer look at what else might lay ahead in 2007.
This New Year's Day will be a historic one for Bulgarians and Romanians whose countries will finally join the European Union and enlarge the bloc to 27 member states. Romania's road to membership has been a bumpy one, but last September, the European Commission finally ruled that the country had met all the criteria required to join the block. The problem is that Romania is not joining the club at an ideal time. Enlargement is no longer popular in Western Europe, and many Europeans fear the competition of cheaper Romanian workers. There are also doubts as to whether Romania is really fit to join the EU. Romania's EU integration Minister, Anca Daniela Boagiu discussed these issues with Network Europe.
For the people of Slovenia, January 1 means swapping their tolar for the euro. This tiny alpine country becomes the first of the EU newcomers to join the eurozone. The government has hailed it as Slovenia's biggest achievement since the former Yugoslav country joined the EU in 2004. Although Slovenia was never in serious danger of not meeting the requirements to adopt the Euro, there were still plenty of adventures along the way.
January 1st also sees Germany take over the rotating presidency of the European Union from Finland. The six-months at the helm of the EU does not give a lot of time to tackle big issues but there are high expectations of Germany. Many members are looking to Berlin to make progress on the European constitution which was rejected by French and Dutch voters last year. There are also several other sensitive issues on the agenda including energy security, relations with Russia, climate change and the Middle East. German Chancellor Angela Merkel will need to maneuver carefully through a potential diplomatic minefield.
The New Year is always a time to reflect on the past 12 months - and to look ahead reflecting on the changes we want - or sometimes actually need.... Maybe your New Year's resolution is to quit smoking and get fit or perhaps to spend more time with your family. But what about the bigger picture? What New Year's resolution would you want for your country? Here's a sample of what Europeans think.

We asked you to tell us in which European country naughty children get rotten potatoes in the run-up to Christmas? The correct answer is: Iceland. Congratulations to: Henk Poortvliet from Zeist in the Netherlands, Djamal Hamouda from Algiers, Algeria, Sunil Singh from Muzaffappur, India, Uchechukwu Nwosu from Owerri, Niger, Sabiha Mubeen, from Muscat, Oman, Xiu-Ping Qian, from Xian in China, Riaz Hussein Malik, from Jhang Sadar, Pakistan.