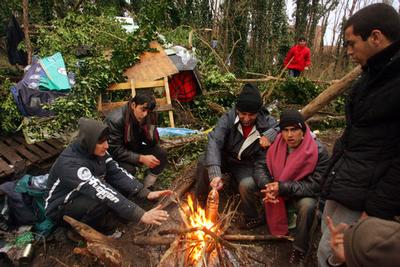 Network Europe
A top EU official has warned that the European Union will soon be facing massive arrivals of illegal immigrants. EU Justice and Home Affairs Commissioner Franco Frattini urged member states at a two-day meeting of EU justice and interior minister in Dresden, Germany, which ended on Tuesday, to step up cooperation in cross-border controls and data exchange to handle the influx of would-be migrants.
For the first time Europeans might get some genuine free-market choice, when buying an international train ticket. Competition is being introduced in Europe's rail transport sector, after Wednesday's decision at the European Parliament to approve proposals to liberalize the market. But will there be genuine choice, and how do Europe's rail passengers feel about foreign trains rolling along home tracks?
After a meeting late last week, the Polish Roman Catholic Episcopate has announced the intention to purge the Church of communist ties, disclosing documents concerning the cooperation of a minority of priests and bishops with Poland's communist regime. The meeting followed the resignation of archbishop Stanislaw Wielgus, who was about to be installed as the metropolitan of Warsaw, but admitted to having had links with the communist security police.
Most Roma in Sweden don't finish school and truancy absenteeism rates are high. However, attitudes are now said to be changing, and more and more are recognizing the value of a good education. But now there are calls for schools to give Roma children more support.
Formerly secret documents, brought to light by a recent radio documentary in Britain, have revealed that in the 1950's, Paris took the extraordinary step of proposing to merge France with Britain. It w as the initiative of the then Prime Minister Guy Mollet. But this was no marriage of equals: the offer was that the British monarch become the French head of state, and that France be integrated into the British commonwealth.
What's making the headlines in the European capital? And what's going on behind the scenes? Our EU insider looks back at the week's developments - click here for the latest edition of Brussels Briefing.