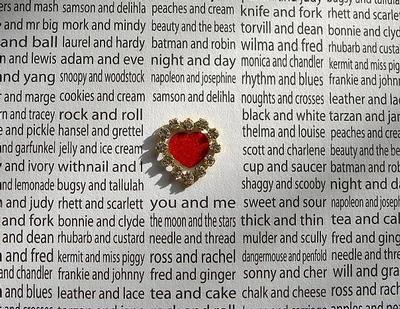 Network Europe
At Network Europe we like to get to the bottom of things and when we decided to shift our focus to European's relationships to mark the upcoming celebration of St Valentine, our first question was who exactly was Valentine - Why is he a saint.? And what on earth made him so amorous?   St. Valentine is actually San Valentino, the patron saint of the city of Terni, a city in the Italian region of Umbria, about 100 kilometres from one of Europe's self proclaimed "capitals of romance" - Rome.   Each year, the Terni locals organize not just a single day, (like the rest of the world) but also a whole month of celebrations: from exhibitions to concerts to poetry readings…all on the theme of love, of course. So, how did St. Valentine become the international symbol for amore? Radio Netherlands, Dany Mitzman had the enviable job of finding out.
There's really no denying it - for many Paris, is "the" global capital of romance, where literature and art lead us to believe at least - that Latin lovers stroll along the banks of the romantic river Seine……   But hold on. Did you know that Paris is also home to hundreds of thousands of singles! And that according to statistics there could be as many as 15 million single people in France, That's twice as many than thirty years ago! RFI's Nick Champeaux wanted to find out  why , despite the romantic backdrop,  so many people hadn't found their soul-mates...
As work, study and weekend breaks take Europeans to the four corners of the continent, international romance is blooming. More than 100,000 Poles alone have moved to Ireland in search of jobs since it flung its doors wide-open to immigration from the new EU member states in Eastern Europe. Most of the Poles are young and...single.   For its part, Ireland has more young people per capita than any other European country.  So even if many Poles don't have romance on their mind when they leave for Dublin, Limerick or Galway, it often ends up that way. Polish Radio's Bogdan Zaryn caught up with Paul and Dominika, one of the increasing number of  Polish-Irish couples.
Now speaking of the indirect effects of the EU On the streets of new member - Romania's capital Bucharest intergenerational couples are increasingly frequent - and visible.   But apparently as Radio Romania International's Iulian Muresan reports it's apparently not because Romanians have successfully bridged the generation gap.   Quite on the contrary... It's all about money.
Across the border from Romania, There's a sea change in the way Bulgarians think about relationships and marriage - as well. And there's a new acceptance of variety.  Radio Bulgaria's Radostin Zhelev takes this personal look.
Embracing the new is something Swedes like to think they're good at. Rightly or wrongly, this part of the world as long been associated with sexual freedoms but its also known to be at the vanguard of social legislation equating de-facto relationships and marriage under the law, promoting gender equality, and safeguarding the rights of children as unique from their parents.   But there are still some aspects of personal sexual and romantic freedoms that are controversial for some - Radio Sweden's Bill Schiller reports on the state of gay and lesbian rights in Sweden.

This month's Network Europe Quiz is about St Valentine. We ask, what is the name of the festival that couples attend in conjunction with St Valentines day in Terni, Italy? The winners will be announced by the end of the month.