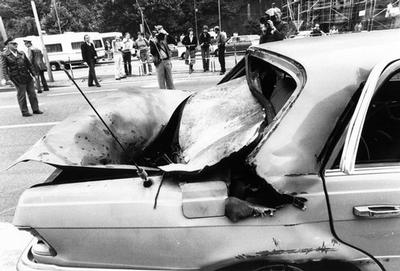 Network Europe
A former member of the left-wing extremist Red Army Faction, which terrorized pre-unification West Germany in the 1970s, is slated for an early release from prison after serving 24 years of a life sentence. But, as DW's Gregg Benzow reports, the German court ruling that Brigitte Mohnhaupt can be let out for good behavior has unleashed a storm of protest across the country.
For the first time in France, people accused of bearing responsibility for an oil spill, are being brought before a penal court. Seven years after the ecological disaster which devastated four hundred kilometres of France's western coast, the Erika trial started in Paris this week. In 1999, the Erika, a twenty five year old, single hulled, rusty oil tanker, was transporting thirty tons of heavy fuel when it sank off the coast of Brittany. Jail terms and fines worth hundreds of millions of Euros are at stake in this trial, which is expected to last four months. Radio France International's Nick Champeaux went to the first hearings, and he filed this report from Paris.
The European Commission has warned Poland again against building an expressway running through the unique marshland nature reserve of Rospuda Valley in the north-west of the country. Agnieszka Bielawska reports.
The high-speed train network in Europe is expanding, but there's still no connection between France and Spain. Progress is especially slow in and around Barcelona, where controversy still dogs the project. According to the current plans, high speed trains will run underneath the Sagrada Familia, Gaudí's famous and still unfinished cathedral. And the famous project could be under threat. Both the current architects and neighborhood residents are deeply worried. For Radio Netherlands Worldwide correspondent Christoph Schmidt has more.
The Czech daily Lidove Noviny recently published details of a little-known footnote in Cold War history; browsing through the archives of Czechoslovakia's communist-era secret police or StB, the paper discovered that among the foreign journalists regularly followed on his trips to Prague was one Frederick Forsyth. Today known as the best-selling author of such classics as the Day of the Jackal and the Odessa File, back in the early 1960s Frederick Forsyth was a young journalist based in Berlin. Rob Cameron called the novelist at his home in Hertfordshire, England, and asked him to reflect on his trips to communist Prague at the height of the Cold War.
What's making the headlines in the European capital? And what's going on behind the scenes? Our EU insider looks back at the week's developments - click here for the latest edition of Brussels Briefing.