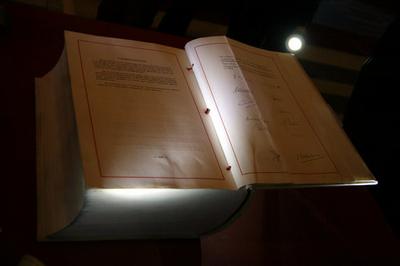 Network Europe
he Treaty of Rome that marks the started all this was signed on March 25th in 1957. And as Stephen just said, by a small club of just six countries: France, Germany, Italy, Belgium, the Netherlands and Luxemburg. By signing that piece of paper, those six established the European Economic Community and paved the way for many more treaties to come... Maastricht, Amsterdam and Nice. These European cities have become synonymous with European treaties that were anything but easy to negotiate. And these places are now symbols of ever deeper economic and political integration. But Europe's milestones are more than just a series of treaties.
Poland is intimately acquainted with the challenges of integration and enlargement. It was part of that big bang of new members admitted three years ago. For Poland, then, the anniversary of the Treaty of Rome is first and foremost an opportunity for reflection. Given Poland's past, this means remembering the decades this nation was unable to participate in the process of European integration.
It's still some way off achieving that aim but it's certainly going the right way - the country's now boasting the kind of economic growth and stability that impresses Brussels. But it's not likely to be smooth sailing... Georgia's giant neighbour Russia is resisting the drive of its former regions to join NATO and the EU. Veteran journalist and Georgian First Lady Sandra Roelofs spoke to Network Europe's Richard Walker about the EU family and Georgia's aspirations to join it.
While other former Soviet republics hope to become EU members, inclusion can also have its divisive effects… 17 years ago there was a bridge of flowers over the Prut River. In an outpour of emotion Romanians on both sides of the river reached out to each other as the border between the Republic of Moldova and Romania opened for the first time in a post-soviet world. Back then, many hoped they would be reunited, but despite the ethnic and linguistic bond between Romania and the Republic of Moldova, the two states have had a different post-communist history.
Despite the recent French reputation for saying no to Europe, like Stephen mentioned, more than 70 percent of French are proud to be European…. So says a recently published French poll, published a month before the French presidential elections. The same survey asked French citizens who they thought they would best be able to move the European Experiment forward as France's next president. So who are these candidates and what are they proposing to do for the future of Europe?
What's making the headlines in the European capital? And what's going on behind the scenes? Our EU insider looks back at the week's developments - click here for the latest edition of Brussels Briefing.