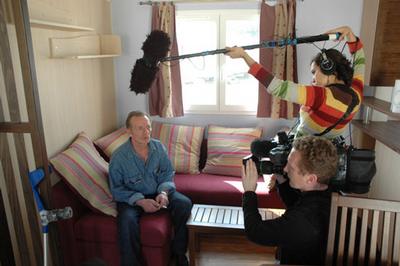 Network Europe
Life could be looking up if your homeless, French and living in Paris. The French government's come up with a new idea to sort out the country's homelessness problem. All through last winter people of no fixed abode lived in tents along the banks of the trendy canal Saint Martin area of Paris, you might  remember it from the whimsical hit movie Amelie. A lucky few have now been re-housed in a trailer park, South of Paris, courtesy of the state. The trailer park's being called the "village of hope"  and residents are expected to use their time there to find jobs and reintegrate into society. Its an experimental project, and if it proves successful, a hundred other villages-of-hope, will be built throughout the country.
From an idea that may not work to a German car that's famous for not working. To many, Germany's the home of the high-performance car: the much coveted BMW's and Mercedes. But don't forget the Trabi, or Trabant - the small, two-cylinder East German cold war car with no heater. It looked like a cross between a golf cart and a bumper car and the GDR produced it for three decades. It's even gained cult status in today's unified Germany. And this year the car turns 50, and some will be fondly celebrating.
Seventy years ago this week Polish composer Karol Szymanowski died. And 2007 also marks 125 years since he was born. The Polish Parliament's declared 2007 the Szymanowski Year and numerous events celebrating his unique music are planned over the coming months.
It's two hundred years since Great Britain abolished the Slave trade. But there were countries at that time which instead of following this fine example, took advantage of it and expanded their transatlantic slave operations - one of those, you might be surprised to read, was Sweden. It didn't abandon the practice until nearly 40 years later, but how much do the Swedes of today know about their country's shameful past
It remains the worst air crash in aviation history. A Dutch KLM Jumbo Jet, loaded with holiday makers, crashed into another 747, a Pan American flight, on the runway in heavy fog. 61 passengers escaped from the Pam Am flight. There were no survivors from the KLM plane. Bad communication between the Dutch pilot and air traffic control was ultimately blamed for the accident. At a moving ceremony, more than 500 next of kin and rescue workers gathered to commemorate the tragedy. Karen Tefuri spoke on behalf of the American victims, giving one of many personal stories. Radio Netherlands went along to listen to them.
What's making the headlines in the European capital? And what's going on behind the scenes? Our EU insider looks back at the week's developments - click here for the latest edition of Brussels Briefing.