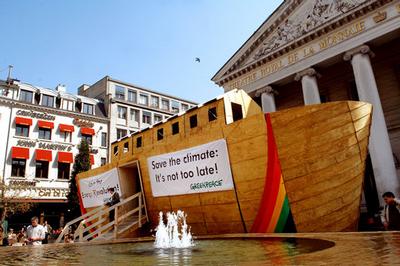 Network Europe
One of the biggest contributors to polluting Europe's Alps are heavy vehicles carrying freight between northern and southern Europe. For many years alpine communities have campaigned to have the freight moved by rail instead of by road. In Switzerland voters even approved this policy in a nationwide referendum. Now, construction of the world's longest rail tunnel is likely to change the face of the Alps.
The Netherlands hit the international headlines on April Fools day five years ago - not because of a spectacular practical joke, but because on April 1 2002 it became the first country in the world to legalise euthanasia. The new law legalised the practice of "mercy killings" within strict boundaries - and there was considerable international criticism of the legislation. Radio Netherlands' Louise Dunne examines how the euthanisia law is working five years on. 5 years since the Dutch legalised euthanasia, what has changed for doctors and patients?
With exactly two weeks to go till the French presidential elections many people are wondering: can Jean Marie Le Pen repeat his 2002 performance ? Five years ago France was shocked when the right wing candidate Jean Marie Le Pen, came second to incumbent Jacques Chirac in the first round of the presidential election. Now, with high unemployment, and tension in the country's immigrant suburbs, commentators are no longer ruling out a repeat of 2002.
Now, Europe's Arab heritage is not something we hear a lot about these days. Since 9/11 and the international war on terrorism - many observers would have us believe that Europe and the Arab world occupy opposing ends of the ends of a cultural, social, and religious spectrum. But as Ingemar Karlsson, a Swedish diplomat in Turkey, advocates in his recently published book Europe should reconsider its Arab Heritage.
And on to another interesting cross-cultural phenomenon: Esperanto - a language that was invented 120 years ago by a Polish Jew. Cynics mocked it as an idealistic cult for linguistic weirdos. But today there still some diehards lobbying for Esperanto to be the EU's official language. They argue Esperanto is perfect for the modern internet age without global barriers. Radio Prague's Pavla Horakova has been finding out more about the small but vibrant community of Esperanto speakers in the Czech Republic.

It was 95 years ago this month that the famous ocean liner Titanic sank. Some 1,500 people died in the tragedy, which ranks as one of the worst maritime disasters in history. But 712 people survived, and we'd like to know how many are still alive today. We have five prizes to give away and will announce the winners at the end of the month.
What's making the headlines in the European capital? And what's going on behind the scenes? Our EU insider looks back at the week's developments - click here for the latest edition of Brussels Briefing.