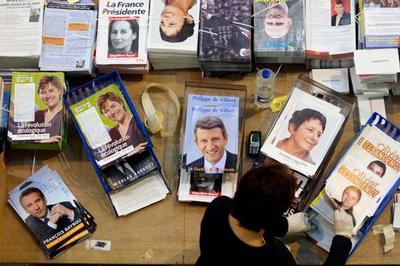 Network Europe
And we should soon know the outcome of that campaign for the presidential election. The first round of voting is on April the 22d. Opinion polls, for what they're worth, put the right wing candidate, Nicolas Sarkozy, in the lead, followed by socialist Ségolène Royal, centre right François Bayrou, and number four is the far right contender Jean Marie Le Pen. Surveys show that forty per cent of the electorate, 18 million voters, are still undecided. Working class voters often leave it to the last days of the campaign to make up their mind. Blue collar workers account for a quarter of the electorate, so they will be the king-makers so to speak. That's why all the candidates are going out of their way to seduce them. Radio France International's Nick Champeaux reports from Charleville -Mézière, in the Champagne Ardennes region, in the north-east of France.
It's been four years since the fall of Saddam Hussein... but Iraq is still a far cry from the haven of Middle East peace and democracy once promised by the US-led coalition. More than 2 million Iraqis have fled the country in hope of a better life elsewhere. And more than 80 thousand Iraqi refugees have settled in Sweden - thanks to Stockholm's open asylum policy - an exception in Europe. But more and more Swedes says they're stretched to the limit and this welcoming policy needs to change. For Network Europe Radio Netherlands' Perro de Jong has this report from Rosengård, a suburb of Malmö.
Dozens of non-governmental organisations from the Czech Republic and around the world gathered in Prague recently for the annual NGO market. The 8th such event to be held in the Czech capital included lectures and debates on everything from the role of civic society in post-communist countries to water shortages in the Middle-East. The meeting was attended by members of the public from all walks of life, as well as Radio Prague's Rob Cameron.
That sound of Polish composer Henryk Mikolaj Gorecki's Third String Quartet played by the American Kronos Quartet, is something you might be hearing more often in the future. After a long period of silence, much of Gorecki's work and that recording in particular, is being re-released: a chance for music lovers everywhere to rediscover his work. Michal Kubicki of Polish Radio's External Service has been following the development of Gorecki's career for many years.
What's making the headlines in the European capital? And what's going on behind the scenes? Our EU insider looks back at the week's developments - click here for the latest edition of Brussels Briefing.