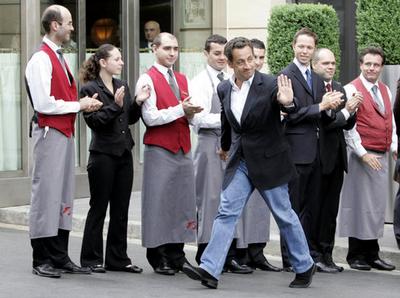 Network Europe
Nicolas Sarkozy will take office next week, on the 16th of May. He returned just in time from his expensive two day retreat to attend the Paris commemoration of France's abolition of slavery. Last year President Jacques Chirac chose May the tenth as remembrance day for the victims of slavery. This was hailed by friends and foes alike, as a breakthrough in France's efforts to come to terms with its colonial past. Interestingly last year Nicolas Sarkozy supported a controversial law which acknowledged the "positive role of colonialism", and he said on numerous occasions during his campaign that he hated remorse. More on the issue with Radio France International's Yan van der Made.
After decades of violence and division, this week saw the inauguration of an historic power-sharing government in the long troubled province of Northern Ireland. Rival protestants and Catholics will take their seats in the freshly revived Northern Ireland Assembly. The conservative Protestant DUP party won elections there last month, with the Catholic Sinn Fein coming second. The hard-line Protestant leader, eighty one year old Reverend Ian Paisley, will become the province's first minister. Radio Netherlands' Lia van Beckhoven has this portrait of the man who, finally, changed his mind.
Coastlines are threatened, deserts are advancing, and the effects of climate change are set to displace millions of people as resources are becoming more scarce. The World Future Council wants to stop that and gathered for its founding congress in Hamburg this week. This new council is the brainchild of Jacob von Uexkuell, who also founded the Right Livelihood Award, also known as the alternative Nobel prize. The goal of his international institution is an ambitious one: in a nutshell its aim is to save the planet. Deutsche Welle's Barbara Gruber asked him how this can be done.
What's making the headlines in the European capital? And what's going on behind the scenes? Our EU insider looks back at the week's developments - click here for the latest edition of Brussels Briefing.