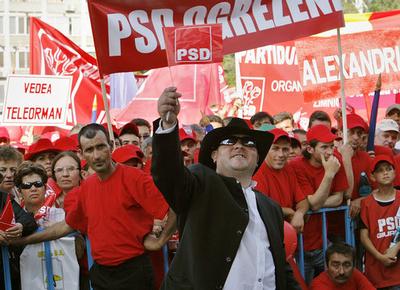 Network Europe
The constitutional court in Poland last week shot down a vetting law aimed at purging ex-communist agents out of public life. The 11-judge panel declared unconstitutional numerous clauses equiring members of certain professions, including journalists, to declare whether they had collaborated with the communist-era secret police. The ruling was a rebuke to President Lech Kaczynski and his twin brother, Prime Minister Jaroslaw Kaczynski, who campaigned on rooting out communists. Michal Kubicki of Polish Radio's External Service reports that in reaction to this decision, some in Poland are now looking to open communist police archives to the public.
Romania's president faces an impeachment referendum this weekend. Trajan Basescu was already suspended by Parliament last month for allegedly usurping the prime minister's power. The Constitutional Court ruled that Basecsu didn't break the law. The ruling was non-binding though, so the decision of whether or not to let him stay in office is put to voters. But this is more than a referendum on a president. Radio Romania International's Iulian Muresan looks deeper into the difficulty Romania faces of maintaining a relatively independent Justice system.
The new French President, Nicolas Sarkozy, campaigned with proposals based on faulty economic analyses- this according to an article posted on the website of a leading American newspaper The Washington Post. France's new president who was sworn in this week, said he would boost France's economy through tax cuts and pushing back the 35 hour work week. But the article, written by Mark Weisbrot, co-director of the Center for Economic and Policy Research, says that there is little evidence that Sarkozy's proposals will actually increase employment or economic growth. Radio France International's Jan van der Made went to find out if economists in France agree.
The Swedish government is being accused of reneging on its promise to support an international ban on cluster bombs. In February at a two-day conference in the Norwegian capital, Oslo, 46 countries pledged to work towards a new treaty banning them. But now in Sweden, the government is being accused of backtracking. As Radio Sweden's Azariah Kiros reports, the government may stand behind some kind of a ban, as long as it doesn't include Swedish designed bombs.
The Vienna public library is doing its best to shake off its staid image by setting up an erotic telephone hotline. Callers pay money to hear readings from the library's collection of erotic literature. Deutsche Welle's Kerry Skyring dialled in to find out more.
Bureaucrats and Romance… wait, wait, don't turn off your radio! It's not as dull as it sounds: it seems there's a dating service for European bureaucrats in Brussels, home to the European Parliament. And it also seems there's trouble. Radio Netherlands' Vanessa Mock has this story.