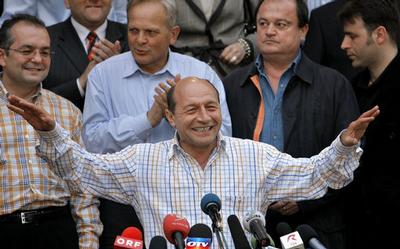 Network Europe
The president of Romania Traian Basescu has survived an impeachment referendum. On May the 19th, Romanians decided to go on with their popular, reformist president. He was suspended a month ago by a Parliamentary majority on allegations that he violated the Constitution. But shortly after Basescu was in hot water again for calling a journalist a "dirty gypsy".
French President Nicolas Sarkozy's ties to business and media came under fresh attack this week, after his former deputy campaign director took on a top post, at the country's most popular television station, TF1. The Owner of the channel, billionaire Martin Bouygues, is a close friend of Sarkozy. Earlier on, critics in France were concerned by the decision made by the Journal du Dimanche newspaper not to publish an article revealing that Sarkozy's wife Cecilia did not vote in the second round presidential poll.
It is a sticky issue that politicians across Europe are having to ponder, with the entry of far right parties into mainstream politics.  Sweden's far right party, the Sweden Democrats, burst into the limelight after success in the country's regional elections last autumn. They held their annual conference last weekend. While not so long ago, the event might have only recorded a minor headline or two, these days the anti-immigrant party is big news. So much so, that the country's politicians are now not only engaging in public debate with the party, they're receiving tips on how to do it.
More and more expatriates or expats are getting involved in politics in Spain, for instance in the country's local elections. Namely, from the country's large expat community. For more than a decade, European Union citizens have had the right to vote and stand as candidates in local elections, in any EU country if they live there as residents. Until now these expats have been keeping relatively quiet, but that's no longer the case. In Spain, for the first time, independent political parties with more non-Spanish than Spanish candidates are taking part in local elections.
We Head to the southern Polish city of Krakow, for a tour of the Kazimierz district, a Jewish quarter from late-medieval times... Most of the sixty thousand Jews who lived there before World War Two were murdered by the Nazis. Small wonder that the city's Jewish past was in danger of being consigned to oblivion.
What's making the headlines in the European capital? And what's going on behind the scenes? Our EU insider looks back at the week's developments - click here for the latest edition of Brussels Briefing.