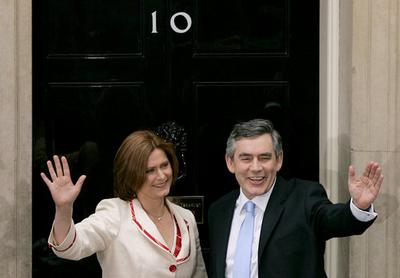 Network Europe
10 years after he was elected, British Prime Minister, Tony Blair handed over the reigns of power to his partner – and rival – the long waiting Mr Brown. It was the end of an era for Britain - but also for Europe, where Tony Blair was long held up as the poster-boy of political reform. Radio France International's Rosslyn Hyamns in London takes this look back at Tony Blair's legacy and into the future at Britain's new Prime Minister.
Last week's heads of Government Summit in Brussels to hammer out the content of a new European Treaty was characterised as always by some very tough bargaining - But a tacit understanding on what can be used as a bargaining ploy in European negotiations was challenged when Poland's Prime Minister Jaroslaw Kaczynski cited his country's war dead at the hands of Nazi Germany as a reason why he the opposed German chancellor, Angela Merkel's proposed new system of majority voting within the Union. In the end the compromise solution was found - but since the summit, commentators around have been trying to get their heads around what the comment's mean for Poland and the EU.
Countries around Europe marked the United Nations International Day in Support of Victims of Torture this week. This year it comes as in Greece, human rights groups are calling on the police to root out what they call a subculture of violence. This follows the broadcasting of a video on the internet of what prosecutors allege is torture. More allegations of police brutality have since emerged as our Athens correspondent Malcolm Brabant reports.
60 years ago today Anne Frank's diary was published for the first time. The diary of a Jewish girl who went into hiding in Amsterdam during World War II is widely recognised as a definitive document of the era. To mark the anniversary, the Swiss relatives of the Frank family have transferred their private archives to the Anne Frank Foundation in the Dutch capital. Marijke Van de Berg asked Anne Frank's cousin Buddy Elias why they had decided to bring the archive to Amsterdam...
No another reminder of the holocaust - this time in Warsaw where the cornerstone for the Museum of History of Polish Jews was laid in the polish capital. The people behind the project are emphasising that their ambition is not to build "just a Holocaust museum' but a centre of dialogue, culture and the long and rich history of Polish - Jewish coexistence. Joanna Najfeld from Polish Radio External Services reports
And a new regular item on the NE website - we travel around Europe to receive a postcard from one of our producers or reporters. This week Radio Netherlands Richard Walker gives us a snapshot from Amsterdam's Schipol airport on the experience of travelling with a small child post the high profile kidnapping of Madelaine Mccann - in Portugal...

A few weeks ago we asked you to name Europe's six neutral countries: The right answer was: Sweden, Finland, Austria, Switzerland, Liechtenstein - and Ireland. Thank you for all your entries - we picked out two from the barrel of winners...