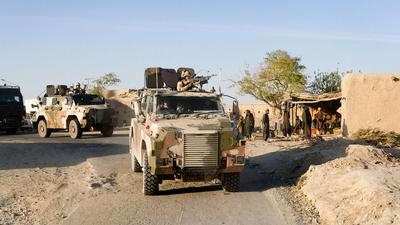 Network Europe
In the Netherlands recent news of Dutch soldiers being killed and wounded in Afghanistan has led the Dutch people to question their role in NATO's operation there. A year ago Dutch troops were thought to be on a reconstruction mission - but as more of them get killed it's becoming clear there's lot of hard fighting to be done. But it's not that NATO's stated aim in Afghanistan has changed. It hasn't. It's the Dutch public who've had a rude awakening to the realities of a new war. So why didn't they realise this was always going to be an offensive operation? Were Dutch voters hoodwinked by politicians into supporting a fighting force dressed in the sheep's clothing of peacekeepers? When deliberating on whether to get involved in the mission, the Dutch government put the emphasis on reconstruction. It was the prospect of helping rebuild Afghanistan which won over a majority of MPs.
Nicolas Sarkozy has set himself a hard task for the coming week. The hyper-active new French president has busied himself reforming French life. He seems hell-bent on inspiring the anti-Sarko banner-wavers to come out and defy him. First he took on university reform, then law and order and the scourge of repeat-offenders. This week it's the turn of union power and the right to strike. Mr Sarkozy wants to make sure that any public transport strikes in future do not bring the country's cities to a standstill, as they often have in the past. He wants to make sure there'll always be a bus or a train, eventually.
Russia, like all nations, is famous for certain things: great literature, epic battles, ballet and drinking. The late former President Boris Yeltsin did much to make sure we remember the drinking part. And as if Mr Yeltsin's incapacitations weren't warning enough, there's new evidence that the dark side of the booze habit is crippling Russia's population. Alcohol abuse, particularly among men, is having a disastrous effect on the nation's health. A recent study revealed that just under 50 percent of men in a typical provincial town in Russia die as a result of smoking and heavy alcohol consumption. RNW's sober Moscow correspondent Geert Groot Koerkamp reports for Network Europe.
A different sort of drink problem is affecting western Europe at the moment – the over-supply of wine. In Brussels this week for NE, Nina Maria Potts.
In Poland Jewish culture is enjoying something of a revival. A fact perhaps not being enjoyed by the Catholic priest Father Tadeusz Rydzyk. He owns a growing media business and is expressing some opinions some in the catholic faith think he should keep to himself. A group of prominent Polish Catholic intellectuals has published an open letter condemning recent statements Father Tadeusz Rydzyk has made, among them anti-semitic remarks and some tabloid style put-downs of the Polish president and his wife.
What is art? An obvious place to look for an answer for the next couple of months is at the Documenta art exhibition in the German town of Kassel. It's one of the biggest and most important art exhibitions in the world. Taking place just once every five years the Documenta is considered a good indicator of what today's artists have on their minds.