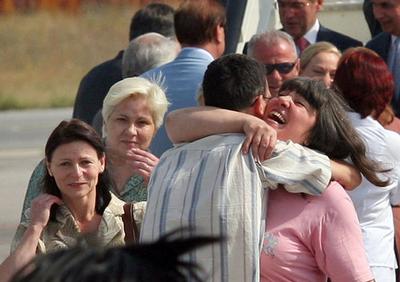 Network Europe
Europe's biggest story this week was the return home of a group of Bulgarians who moved abroad in the 1990's only to find themselves facing death sentences for crimes they didn't commit. The 6 Bulgarian medics repatriated by Libya on Tuesday captured headlines across the continent. They'd been jailed for deliberately infecting children with HIV but had always protested their innocence. There were jubilant scenes at Sofia airport as the medics landed on their French government plane.
Behind the scenes in Brussels questions are being asked about French coercion and threats to switch off Libya's anti-missile shield. And there's been fevered speculation as to exactly how the deal to free the Bulgarian medics was made, and who knew about it. Before the champagne corks in Sofia had even started popping difficult questions were being asked about the contents of the deal with Colonel Gaddaffi's government.
Next time you get sick how would you like to recuperate in a Spanish health spa, all expenses paid? Well as if Scandinavia wasn't Eutopian enough already, Norway does exactly this, if your condition requires it. The Norwegian public health system now sends the sick, elderly and disabled on holidays to Spain as part of their medical treatment. Thousands of Norwegians are visiting rehabilitation centres run by Norwegian health associations along Spain's Mediterranean coast.
British men are content to self-medicate when in need of relaxation and for large numbers of them on stag-weekends that means picking up a cheap flight to Krakow in Poland! The beer's cheap, the hotels are cheap, and, until recently at least, the local population greeted them warmly. To give the uninitiated an idea of what the British stag weekend is – groups of up to 20 or so men, usually friends and relatives of the one getting married, go away for the weekend to celebrate the groom's last days of bachelor life. Such weekends often get so beer-soaked that in Prague, another popular cheap booze destination, the British embassy plans to issue 20,000 beer-mats warning that under Czech law you could spend a couple of days in jail for being drunk and disorderly. But there seems little doubt that Krakowites are having their patience tested by brash, boozy Brits.
Legend has it the Swedes can give the Brits a run for their beer money. When they travel many Swedes make use of their country's charter travel industry. It's one of the few ways to swap the rain and snow for a bit of sun. Add to that Sweden's restrictive laws on alcohol and you're left with the motivation for many Swedes to see holidays as opportunities for liquor-fuelled fun in the sun.
Like us here at Network Europe you've no doubt often wondered what Serbs do when they go to Paris for the weekend. For Network Europe Anastup Roy discovered that like the Brits they come in search of their own culture, it just involves being more sober.
This week's postcard comes from Paddy Maguire from Radio Netherlands Worldwide who has to literally bail out his sister

We asked you to suggest how the EU could improve its image and connect better with Europeans. Thanks for all your entries. And which idea did we liked the most?