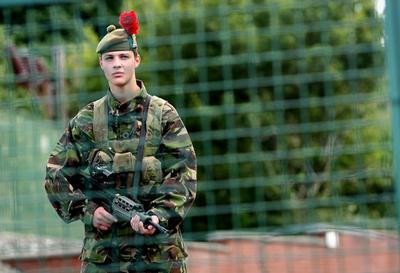 Network Europe
An era came to an end this week in Northern Ireland's troubled history, when the British army ended its long-running operation in the province. The first soldiers were deployed after violent clashes between Catholics and Protestants in 1969. Back then, people thought they would only remain for a few weeks, but what became known as Operation Banner was to be the British army's longest running campaign. And although it was Northern Ireland's catholic minority which originally requested the army's presence, it wasn't long before the troops were not that welcome any longer.
The Polish government is currently at logger heads with the European Commission over a stretch of motorway it wants to build through the Rospuda Valley in the North-East of the country. This European nature reserve has unique wetlands and virgin forest, but the Polish insists this motorway is crucial as part of the Via Baltica linking Warsaw with Helsinki via the Baltic States. This week Poland decided to postpone the start of the construction as the case is now being examined by the European Court of Justice. But the dispute over the motorway's environmental impact is far from being resolved.
EU-Polish relations have not been easy in the past few months. Poland clashed with the EU over voting rights, it also vetoed talks between the EU and Russia earlier on in the year. This latest dispute surrounding a stretch of motorway seems to be yet another bone of contention. True, the Polish government has this week agreed to back down from starting construction while the European Court of Justice is looking into the case. But the question is: what's next?
Many people have an image of Ingmar Bergman as a very austere director who made dark and depressing films about death, doom and dramas. Internationally, Ingmar Bergman is most known for his films, but he was also a very active author - writing scripts, novels and theater plays. The legendary director died this week in his home on the Swedish island of Fårö. Radio Sweden talked to Astrid Söderbergh-Widding, chairperson of the Ingmar Bergman Foundation.
Cycling might have a bad image in France after this year's Tour de France doping scandals. But not everywhere. Paris recently launched the biggest city bike commuter service the world has ever seen. It's called 'Vélib' - and is a merger of two French words: velo which means bicycle and lib - or liberté meaning freedom.
The sporting pretensions of the new president have been drawing criticis, even from among Nicholas Sarkozy's political friends. Because Monsieur Sarkozy likes to do what no other French president has done before him - he likes to go for a jog. Every morning. Whether he's at the Elysee Palace or at various summit meetings around Europe.
Three films of Swedish director Ingmar Bergman have won the Academy Award for Best Foreign Film. Can you name them? You can email your answer to contact@networkeurope.org or write to us via snail mail to Deutsche Welle Radio, European Desk, Bonn Germany. We have 5 special prizes to give a way and will announce the winners at the end of this month.