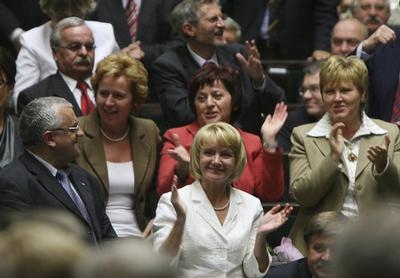 Network Europe
In five weeks time, two years earlier than scheduled, the Polish people will be electing a new Parliament. Is Poland in for a repeat of the political scenario of two years ago when no party won enough support to form an independent majority government? Michal Kubicky reports.
Sweden has been a member of the EU since 1995. But did you know that one of the most contentious issues for the Swedes during the negotiations aside from the country's much vaunted neutrality - was whether or not Swedes would be allowed to keep their peculiar habit of snus - or oral tobacco. Now a decade on and smoking definitely out of favor - Snus is being marketed as smokeless tobacco and the question is whether it should be sold in other European Union member states. As Azariah Kiros explains, the Snus Empire wants to strike back...
The European Parliament in Strasbourg has just voted to scrap a ban on taking liquids on board planes, saying that the measure is an expensive mistake and that there's no proof that it helps prevents terrorists attacks on planes. But will the powers-that-be actually lift the ban? Radio Netherlands' Vanessa Mock reports.
Romania joined the European Union on January the 1st 2007. Initially the West feared a massive wave of immigration from Romania and Bulgaria. It wasn't really like that. Romanians have continued to go to work in Italy and Spain as they used to do before Romania's entry in the EU. But in recent months, Italian and Spanish newspapers have abounded in rather unflattering articles about the Romanian community there, which is the biggest foreign community in Italy, numbering according to official figures half a million Romanians.
Crackdowns on illegal immigration by Spain meanwhile have reduced the number of migrants coming from Africa. But one sort of immigrant is coming in greater numbers: underage North Africans. Temporary shelters for the young unaccompanied migrants are overflowing and Muslim leaders are warning that they are ripe recruits for Islamic radicals.
This year France is hosting the Rugby World Cup from the 7th of September till the 20th of October. A full six weeks of what is billed as the third biggest sports event after the football World Cup and the Olympics. 1000 players from 20 countries big and tiny from all continents are playing. We take a look at the passion for the sport and the organization of the tournament in France.