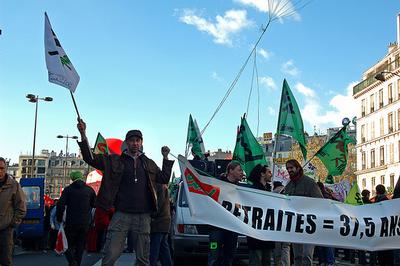 Network Europe
The French have been practising a favourite national pastime this week. It may be cold but it's strike season again in France. This time it was about pensions. Public service employees and teachers plan to go on strike in the coming days over education reforms. And unsurprisingly, students are joining in with another strike of their own.
Despite being fond of blowing raspberries at authority it seems the French are warm and welcoming when it comes to the Francophone part of Belgium, or Walloonia. A new opinion poll in France says if Belgium was to split in half Walloonia would be welcome to join it. Belgium's been in a government-free limbo for 5 months now. Long coalition talks are common enough after elections there but this Belgian waffle is damaging the country. Politicians from rich Dutch-speaking Flanders in the north, want more autonomy. In poorer Walloonia, though, they want to maintain the power of the Belgian state. The failure to form a government is strengthening the case of those who believe that the interests of Flemings and Walloons are now irreconcilable and that it's time for the two to say adieu.
Turkish/German rap artist Muhabbet rapped with some unusual backing singers at the EU summit in Berlin. German and French foreign ministers Steinmeyer and Kouchner, are now two of the highest profile politicians ever to appear on a rap record. Muhabbet is quoted in Holland's Algemeen Dagblad newspaper this week as saying he thinks the murdered dutch film maker theo van gogh got off lightly! (mr van gogh was shot and stabbed to death on an Amsterdam street 3 years ago). The rapper says he'd like to have taken him to a cellar to torture him first. An interesting collaboration between mainstream politics and reactionary intolerance there. But what were the official reasons for the 2 great men wanting to get down with the kids
It's been a year since Germans stopped worrying about nipping down to the shops and finding them closed. In most German states now, shops can open for business 24 hours a day, six days a week. The most progressive rules are in Berlin where shops can open 10 Sundays a year. But don't forget, 6 days shalt thou labour and do all that thou has to do, but the 7th is the Sabbath of the lord thy god! With that in mind, Catholic and Protestant churches say Sunday trading shouldn't be going on… and that it violates the constitution. This week the churches brought their case against the state of Berlin before Germany's highest court.
In the Netherlands a decision on whether or not to renew the Dutch mission to Afghanistan is pending again. And although this is an important subject for the whole country every time it comes around, the issue has taken on new complexities this year. In the 6 years that Dutch troops have been in the country, casualties have been low. But the majority of military fatalities have been in the last 6 months. Recent fighting's been much more intense and it means Dutch troops have to face a higher risk of being killed.
The Swedish Security Service or SÄPO has always been tight-lipped when it comes to discussing its work and especially when it comes to international terrorism. But with a new director general at the helm, the door to the media's been wedged open a little. SÄPO says some young radical Swedish Moslems pose a real security threat. SÄPO's Chief Security Analyst Malena Rembe spoke to Radio Sweden's about Swedish national security and home-grown radicals.