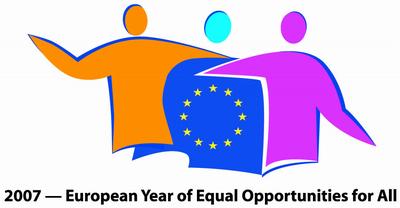 Network Europe
How to make Europe a better place for everyone? Eradicate discrimination of all kinds – against ethnic minorities, against women, against people with disabilities. Achievable goal or pipe dream? European political leaders hope the former and have assigned 2007 as the European year of equal opportunities for all. And they haven't just given it a name they've backed it up with some cash – 15 million euros from the EU, money that's been added to at the national level. Brigitte Degen is from the Equal Opportunities initiative and she told Radio Netherlands Worldwide's Richard Walker what it's supposed to do.
One minority group not enjoying opportunities in France is black women in the fashion industry. But one of the world's biggest modelling agencies, Elite, is making an effort to set a positive example. The Paris-based employers of Claudia Schiffer and Cindy Crawford say they want to sign up more 'ethnic' talent. So how ready is France for its large African-origin population to be represented on its catwalks, TV ads and magazines covers? DW's John Laurenson has been finding out.
Perhaps being young and beautiful is some compensation for not getting a break in modelling but the problem of discrimination in hiring practises in France, unsurprisingly, runs much deeper than that. If you're over 50 years old it's a struggle to find a job. Young women aren't hired because companies worry they'll go on maternity leave. And for ethnic minorities the problem is acute. Two years ago an anti-discrimination law set up a framework to punish companies with discriminatory hiring practices – but progress has been slow. RFI's Sarah Elzas examines the case of a young black woman who's had enough of her skin colour obscuring her skills.
The European Network Against Racism has just published its annual report and it makes for a startling read. Away from glossy ad-campaigns trumpeting harmony and diversity, ethnic minorities are at the sharp end of a highly competitive job market. Radio Netherlands Worldwide's Vanessa Mock describes the group's findings.
In a landmark verdict, the European Court of Human Rights recently ruled that the Czech Republic violated the rights of Roma children by placing them in so-called special schools for children with learning difficulties. The state has been ordered to pay the 18 families who took the case 4,000 euros each in compensation. Meanwhile, Roma rights campaigners are now calling for the Czech Republic to adopt positive measures to address the segregation that still exists, despite changes to the law. Radio Prague's Ian Willoughby reports.
Who has more chance of getting a job in Sweden? Blue eyed Sven, or dark haired Mohammed? In an ideal world, and many feel Sweden's the closest we've come so far, you'd be forgiven for thinking their chances were similar. But you'd be wrong. Several recent studies in the country have shown that if you have a foreign sounding name you have a 33 percent less chance of even being called to an interview. Let alone getting the job. Radio Sweden's Kris Boswell reports...