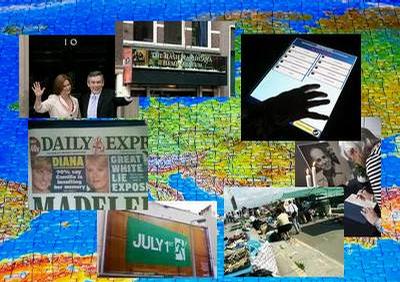 Network Europe
Nicolas Sarkozy promised to give France a good shake - but was Europe shaken by the result of the French elections? Listen to this - had Germans, Italians, Spaniards and Britons had their way - France would now have its first female president. Radio France International's Nick Champeaux sounded out the opinions of European commentators and correspondents in pre-election Paris
While some changes are made at the ballot box, others are made in fashionable London restaurants. Britain's long standing Prime Minister Tony Blair handed over the reins of power to his partner and rival, Gordon Brown in 2007. There have been reports of a tea-time deal with a young Tony Blair agreeing to hand over the leadership of the country after two terms in office -- well, after a very long wait - Gordon Brown took over at 10 Downing Street a decade later. In London, Radio France International's Rosalyn Hyamns took a look back at Tony Blair's legacy and peeped into the future of Britain's new Prime Minister.
Diana, Princess of Wales commenting on the insatiable appetite of the media in her public and private life. 2007 marked 10 years since that fatal car crash in Paris. And even a decade after her death, the interest in the People's Princess has not diminished. Phil Hall who was editor of "News of the World" at the time, admitted this August that the media had some responsibility for Diana's death. He said that , "If the paparazzi hadn't been following her, the car wouldn't have been speeding and the accident may never have happened. " As Radio Netherland's Richard Walker reports, Diana was a dream come true for Britain's tabloid press.
Turning to Sweden now and another legend never to be forgotten. Swedes said goodbye to film director Ingmar Bergman whose classic films like "Fanny and Alexander" have become a firm fixture in the hall of Swedish cultural fame. Internationally, Ingmar Bergman is most known for his films, but he was also a very active author and playwright. The legendary director died in his home on the Swedish island of Fårö in 2007. Radio Sweden's Azariah Kiros talked to Astrid Söderbergh-Widding, chairperson of the Ingmar Bergman Foundation.
From personalities - to places. One of the most fascinating places in Poland's capital, Warsaw, is across the Vistula river. It's in a part of the city most tour guides ignore, or even dismiss as too dangerous. The Tenth Anniversary Stadium was a left-over piece of architecture from Poland's communist past. But Poland's surprise success with its bid to host the 2012 European Football Championships means a brand new sports complex is being built on the site. So, it's also goodbye to the famous international market - Polish Radio's Amy Drozdowska presented an obituary:
And for those of you who used that minute break to light up, you may be aware that 2007 saw a smoking ban come into effect in England. Since the first of July, it's been forbidden to puff away in virtually all enclosed public spaces and workplaces. Deutsche Welle's Carol Allen checked up on Londoners after the first nerve-wracking month
A different kind of smoking is the focus of Amsterdam's Hash Museum as Louise Dunne from Radio Netherlands Worldwide found out.