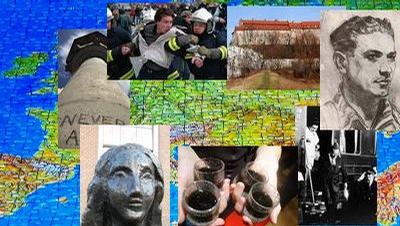 Network Europe
The French may well be glad to see the back of a year that saw France make world headlines – but not the sort of headlines they would want. November witnessed the worst spate of social unrest since the nationwide car-burning frenzy of 2005. President Nicolas Sarkozy called those responsible for the recent riots "yobs and traffickers." Not everyone agreed. Lamia Belassen is a 17-year-old high school student from Paris who's unhappy with the new reputation building around France's young people. She's part of a youth group organized by the city and told Radio France International's Sarah Elzas that stereotypes are being created.
Let's turn the clock back now – 46 years – as that's when construction began on the Berlin Wall. This year a document came to light which seems to prove that East German border guards had explicit orders to shoot people trying to flee to West Berlin. Deutsche Welle's Joanna Impey filed this report as old wounds were reopened
2007 also saw the 60th anniversary of the first time Anne Frank's diary was published. The account, written by a Jewish girl in hiding in Amsterdam during World War II, is widely recognized as a definitive document of the era. To mark the anniversary, the Swiss relatives of the Frank family transferred their private archives to the Anne Frank Foundation in the Dutch capital. Radio Netherlands Worldwide's Marijke Van de Berg met Anne Frank's cousin, Buddy Elias.
A German film entitled "Die Fälscher" premiered at the 2007 Berlin Film festival – "The Counterfeiter" examines a little-known but rather fascinating episode in the Second World War. The Nazis thought they could cause the collapse of the American and British economies by flooding them with counterfeit banknotes. The Jewish printers making the fake money survived the Holocaust. Adolf Burger was one of them. Radio Prague's Ian Willoughby brought us his incredible story.
One phenomenon Network Europe looked into during 2007 was "Yugonostalgia." When Yugoslavia fell apart in the 1990's the Balkans experienced Europe's bloodiest wars since the end of the Second World War. While relations are still strained between the six independent republics that were created, "Yugonostalgia" has been visible from Ljubljana, to Sarajevo and Belgrade. It's a cultural and psychological phenomenon – nostalgia for the former Yugoslavia, its customs, traditions and its former leader Marshall Josip Broz Tito ... who, as it turns out was a train enthusiast. Seeing a golden opportunity, The Serbian Rail Company dusted down and wheeled out Tito's luxurious private train. In the past, it only carried VIP's and heads of state – but times have changed and Deutsche Welle's Barbara Gruber simply queued with a few tourists to get on board the Blue Train.
But if the Blue Train isn't your idea of a holiday outing – you might be thumbing through a stack of charter travel brochures – that's a typical thing for a Swede to do – and this time of year – they're all off looking for a bit of sun. But how do the Swedes behave when they're far from home? Do Sweden's restrictive alcohol laws encourage liquor-fuelled benders abroad? Radio Sweden's George Wood asked Lisa Lenneman from one of Sweden's largest tour operators.
And while you're on holiday – of course you need to bring back a souvenir or two. An order of Polish monks has come up with a rather unusual business idea to support themselves. How about some Prayer Book apricot jam or the rather popular Novice Brothers pickled mushrooms? Michal Kubicki from the Polish Radio External Service visited the Benedictine monks of Tyniec Abbey near Krakow for a little divine souvenir hunting.