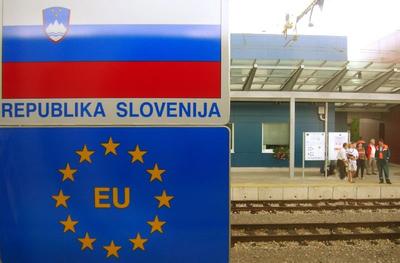 Network Europe
As you may know, the European Union, striving for a "perfect" democracy, has a rotating presidency. Every 6 months one member state takes over, and this January 1, it's Solvenia's turn. It's a small country, just south of Austria and it's the first from the crop of new member states to take over the post. And the pressure is on for the country to prove itself capable. This is a big year for the union, with a range of major issues on the agenda including Kosovo. Does the European Union support its independence from Serbia or not? To help us figure this all out, who better to talk to than Radio Slovenia International's Michael Manske. He says Slovenes are very proud of taking over the presidency.
The Slovenian agenda's certainly a hectic one: they'll be looking at the other Balkan states wanting to join the European Union—like Croatia and Bosnia. Then there's what to do about climate change. Plus, since 2008 is the European year of intercultural dialogue. Some in Brussels are worried that the former Yugoslav country may have too much on its plate. RFI's Brussels correspondent, Quentin Dickenson, explains.
On January 1, 2008, France finally bid 'au revoir' to the cigarette, following in the footsteps of Spain, Ireland and Italy. The new law bans smoking in bars, cafes, restaurants and clubs. But will it work? And are the French prepared to live up to their law-defying, revolutionary credentials? Will they risk a fine to hold on to one of their much values 'liberties'?
People in industrialized nations are getting taller ... and fatter. But no one really knows how bodies are changing. In Germany, the last time anyone surveyed people's body sizes was back in 1956. You might wonder why we need to survey bodies at all. Well, think about clothes, or getting in and out of car or bus seats. Germans will soon know how big they really are. The 'Size Germany' project is touring the country, using high-tech 3D body scanners to measure 12-thousand Germans.
The average Pole spends three and a half hours a day in front of the TV. Nearly half of that time is devoted to watching soap operas. People watch these series because they can identify something of themselves in them. And some Polish sociologists say that they can be good for establishing family roles.
Arn is the most expensive Swedish film ever. It opened on Christmas day, and it pulled in over 160-thousand spectators in the first two days. But can all these movie goers be wrong?  One critic doesn't think this knight in shining armour will win the box office battle.
A top attraction In the Dutch capital, Amsterdam, is the famous red light district. But the district may not be around much longer. The city council has announced plans to clean up Amsterdam's image, and a third of the window brothels are to be closed. So Instead of prostitutes, windows will display the wares of upmarket shops. Sex workers fear that they'll be driven onto the streets and some say Amsterdam's reputation as a liberal and tolerant city is also threatened.

Last month we asked you to name the famous botanist whose birth was being celebrated in 2006. The answer was Carl Linnaeus. We announce the name of the winner on the air. This month you'll get a new hint each week to identify a French man whose birth 100 ago is being celebrated this year, in 2008. Listen to the music, because it's a hint, as he was a composer. Plus, he was a very religious man. More clues next week. If you already think you know the answer, email contact@networkeurope.org.