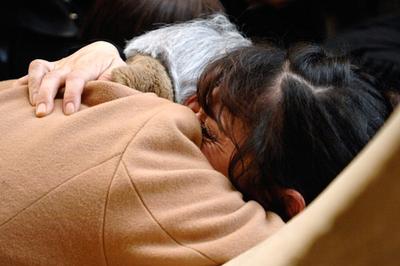 Network Europe
Back in November Network Europe reported on the case of 6 convicted French aid workers from the Zoe's Ark group. Zoe's Ark is a French charity that tried to evacuate orphaned children from the war-torn Darfur region of western Sudan. In the middle of this so-called rescue attempt in October they got caught in Chad with 103 children. At the end of December, a Chadian judge sentenced them to 8 years in jail with hard labor. Thanks to an agreement between France and Chad, the six were transferred to France to serve out their sentences, and a couple of weeks ago, a French judge held a hearing to figure out how to convert the sentences—as hard labor doesn't exist in France. He's now decided they'll spend eight years in prison in France.
The EU has finally decided to send a military force to eastern Chad to shore up its border with Sudan and try to protect the refugees in the area. But the mission is still beset with delays and fears that the region is too unstable for a peace-keeping force. So what do our leaders in Brussels believe they can achieve with this mission? Vanessa Mock reports that, on the military side there are signs of disorganization.
Movie buffs and the film-making community in Poland are in jubilant mood. The list of Oscar nominations has been published and it includes several Polish names, with the nation's most acclaimed director Andrzej Wajda leading the field with a nomination for best foreign film.
It's Carnival season all around the world at the moment, and for a lot of people taking part it's an excuse to get dressed up in decadent costumes and go a bit wild. The Carnival season leads up to Lent, the logic goes, enjoy yourself now and then give things up in the run up to Easter. Carnival has its roots in Roman Catholicism and in Germany, the people of Cologne are famous for celebrating Carnival with an almost religious fervour. That hasn't always been true for the city's immigrant community though who have found it difficult to get into the mood. Until now that is.
Nokia, the Finnish mobile phone giant, plans to close down its huge factory in the German city of Bochum and move it to Romania. It'll mean job losses and serious knock-on effects for the local German economy. But why is it moving? Nokia couldn't resist the temptation of producing their phones at a fifth of the current cost. 16 hundred kilometers east, everything from labour to electricity is a lot cheaper.
The Swedish government has adopted a new plan of action to fight child sex tourism. The measure has been welcomed by the main non-governmental organisation which highlights the problem. But campaigners feel more needs to be done to come to grips with the problem.

Can you tell us which European monarch celebrated their 70th birthday on January 31st this year?