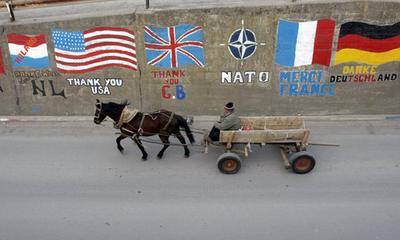 Network Europe
Kosovo's independence was celebrated by tens of thousands in the new country's capital Pristina on Sunday the 17th of February. Posters were plastered across the city thanking the US and the European Union for their support. But as you might expect, that's not the story across the border to the north in Serbia. Many Serbs are angry with the US and Europe for blessing Kosovo's independence. Slovenia couldn't be much further away from Serbia these days, in the political sense. It was the first province to break away from the Yugoslav union back in 1991. And it's come a long way since then. It currently holds the rotating EU presidency, and is something of a darling in the west. while Serbia remains more or less a pariah state. Within the EU opinions are divided over Kosovo's independence, and whether Serbia's right or wrong to complain about it so bitterly. Critics of the west's media coverage of the move say Serbia's been getting an unfairly bad press. And arguably, the country's had a difficult rapport with the rest of Europe since the Balkan wars of the 1990's. Our Brussels correspondent Vanessa Mock believes Europe's relationship with Belgrade just got even more complicated.
Pity the poor, or soon to be poor, tax evaders in Germany. They're either shaking in their boots or hiding behind their lawyers at the moment. This week, teams of auditors fanned out across the country in a blitzkrieg of suspected tax cheats. It's the country's biggest tax fraud investigation ever. The names under scrutiny come from a CD containing a client-list of a bank in Liechtenstein. The tiny principality of Liechtenstein, between Switzerland and Austria, is a well-known tax haven. The whole affair reads a bit like a James Bond thriller – there's a mysterious informant, a spy agency, large amounts of cash paid for information, as well as some diplomatic mud-slinging thrown in for good measure. From Berlin, Kyle James reports on the men with a licence to audit.
Some in Poland are worried about what's seen as a criminal westernisation of their country. Crimes that were thought of as exclusively west European are now appearing in Polish statistics. One such crime is date-rape, often perpetrated by spiking a victim's drink with a drug that knocks them out, sometimes even wiping their memory. Now a new campaign's under way to make young Poles aware of the dangers they face.
Is Big Brother watching you? Following the 9/11 attacks in the US, governments across the globe have been tightening security laws, in an effort to better track potential terrorists. Sweden was one of the keener EU member states behind a push to give the police extra powers to gather information on the general public. For many, this isn't a problem. But some worry that our liberty is being eroded too far.
According to a recent report, aeroplane noise may be driving people who live near airports into an early grave, by increasing their blood pressure. Even while they're asleep.
Supermodel-turned-French-first-lady Carla Bruni-Sarkozy tried to put the brakes on her husband's dramatic slide in the opinion polls this week by, perhaps a little sarcastically, apologizing for their happiness.   Since he went public with their relationship in December, two months after divorcing his second wife, President Sarkozy's popularity rating has plummeted.   Two weeks ago President Sarkozy filed a criminal complaint against the weekly Nouvel Observateur for publishing a text message. The paper claimed he sent the message to his ex-wife a week before his wedding to Carla Bruni offering to call it off if she came back to him! Whatever actually happened it seems that the rather cosey relationship between the government and the French media is being challenged.