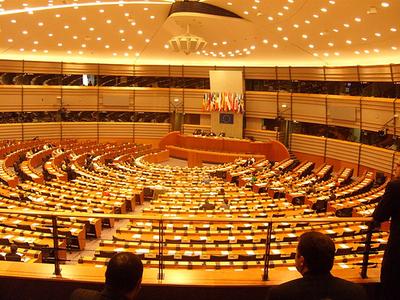 Network Europe
There's been a scandal brewing in Brussels over the past week. Chris Davies, a member of the European Parliament, read an internal report that suggests some of his parliamentary colleagues are being less than honest with the money they claim to run their offices. He says he was so appalled by what he found out he's gone public with it. Now allegations of fraud are flying and a fiercely bad-tempered row has erupted between those who want the report published and those who think it's less than explosive. MEPs are given around two hundred thousand euros a year to keep an office and pay for assistants. And most of them say they have nothing to hide. So why don't they want the report to be made public?
With scandals over expense accounts it's no wonder the EU is thinking about image. In an effort to make the EU feel more of a community the European Commission has launched a new website and radio programme. It's hoped they'll reach a youthful audience and provide everything one should know about Europe - from news to culture, and the important work the EU's doing. European Commisioner Margot Wallström launched "Euranet" this week.
In France there's sudden concern about rising food prices. In the land of gourmet chefs, people are worried about the cost of their weekly shopping bill with the prices of some foods have suddenly gone through the roof. Producers and distributors say it's due to price increases around the world. But consumers wonder if they're being ripped off. Politicians are paying attention. With local elections coming up this month, no one wants to take responsibility for a drop in living standards.
It can be plain old cotton or extravagant Italian silk. Tied tightly under your chin or draped elegantly over your head. Headscarves in Turkey might be a political hot potato but for many women they're also a fashion accessory. As Dorian Jones reports from Istanbul, how and what you wear as a headscarf can define where you're from, who you are, and whether you're in or out.
The world of Swedish knitting has left the rocking chair and come careering, like an out-of-control skateboard, into the streets and cafes of Stockholm. The old lady image is being replaced – now it's a popular way for all ages to socialise as well as be a new form of graffiti or street-art.
A new planetary system, very much like our solar system, has been discovered by a team of astronomers in Chile led by a Pole – Profesor Andrzej Udalski.