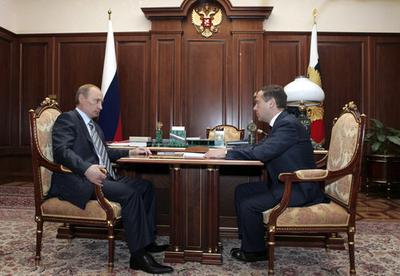 Network Europe
Russia is about to enter a new political era with last weekend's presidential election. Or is it? President Putin is stepping down after serving two terms in office, as dictated by the Russian constitution and Dmitry Medvedev is taking over. Mr Medvedev has been plucked from relative obscurity to continue the path taken by his mentor, Vladimir Putin. However Mr Putin isn't planning on retiring anytime soon – it's expected that he'll stay on as Prime Minister, raising fundamental questions about who will really be in charge of Russia. Emma Simpson has more from Moscow.
This weekend people in France are going to the polls to vote for their local governments: mayors, regional and local governing councils. Mayors and local governments are the first point of call for the problems and daily concerns of French citizens. But these elections are also seen as a referendum on the national government: the results of the president's party will reflect what people think of him. Calais, in the north of France, is one of the last Communist party strongholds in the country. The opposition has put together an unconventional campaign to try to oust the mayor. Radio France International's Sarah Elzas has this report from Calais.
9 months after general elections Belgians finally look set for a new Prime Minister. The political stalemate - which was the longest in Belgian history - raised the prospect of a split between the French-speaking Walloons and the Dutch-speaking Flemings. Last week Walloon and Flemish politicians finally broke the d eadlock after agreeing on the first steps to reform the country. The deal paves the way for a new government to be formed by Easter -- with Yves Leterme, leader of the Flemish Christian Democrats, taking over from interim prime minister Guy Verhofstadt. But is the Belgian political crisis now really resolved? My colleague Vanessa Moch from Radio Netherlands put that quesion to the former Belgian Prime Minister Mark Eyskens.
Since 1908, International Women's Day on March 8th has been a day to recognize the achievements of women around the world -- regardless of nationality, ethnic background, culture, economic status or political beliefs. The idea of having an international women's day was first put forward at the turn of the 20th century. Rapid industrialization and economic expansion had led to protests over working conditions. 100 years ago, on March 8th 1908, 15,000 women marched through New York City demanding shorter work hours, better pay and voting rights. A century on, women around the world are still fighting for more rights. In Stockholm, Iranian, Iraqi, Swedish and other women - as well as supportive men - have now gathered to put forward their demands. Radio Sweden's Bill Schiller reports on a special appeal to mark the 100th anniversary of Women's Day.
Thirty years ago Vladimir Remek became the first man in space who was not from either the United States or the Soviet Union. After taking part in the eight-day Soviet space mission in March 1978 Remek became a hero not only in his native Czechoslovakia but right throughout the East Bloc. Radio Prague's Ian Willoughby spoke to the former cosmonaut about that historic flight – and the propaganda that came with it.
Rome wasn't built in a day and seeing it in 24 hours is nearly impossible…unless you run. Well, lace up your sneakers and run, tourist, run. Guides from a company called Sightjogging will provide you with a tour that's sprinkled with sweat and historical details. The tours are attracting fitness friends while baffling Romans who prefer a slower-paced life. Our reporter Nancy Greenleese went the extra mile to bring us this story.

This month we want you to identify a French film director, writer and producer who's celebrating his birthday on March 18th. He was born in Paris to parents who were both scuba diving instructors and this very much influenced his childhood. He long thought about becoming a marine biologist, but then discovered film. Over the coming three weeks we'll give you a different clue as to his identity. Here's the first one – it's the opening scene from one of his earlier films.