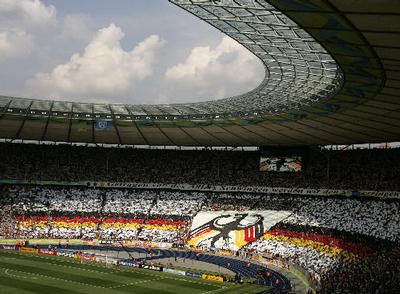 Network Europe
The Football World Cup is in full swing in Germany. Teams from 32 countries have been battling it out on the playing field, in international football' s biggest event. The Germans are very proud to play host country, which partly explains why the mood there is one of celebration. One aspect of that, appears to be the development of what is being called "positive patriotism." An odd expression, but in Germany, where patriotism has been viewed with much suspicion since the end of World War Two, it marks a real change in attitude.
French President Jacques Chirac inaugurated the Quai Branly indigenous art museum in the capital on Tuesday. Like his predecessor François Mitterrand, who gave Paris the Louvre pyramid, the 235 million Euro museum is Chirac's legacy to the city, in the final year of his presidency. Beyond the post-colonial angst over the concept of a museum devoted to what used to be called primitive art, and is now called indigenous art, what is the Quai Branly like, as a space to visit ? Are the exhibits the stars of the show, or is it the work of Jean Nouvel, the museum's architect, that is stealing the prize?
Robert Fico, and his SMER party won around twenty nine per cent of the votes in last week-end's elections, and fifty in the 150-member parliament. Fico has been struggling to find common ground with the other parties to form a government.
After the EU-US summit in Vienna this week, George W Bush visited Hungary, on the fiftieth anniversary of the Hungarian uprising against communism. Commentators have noted that trips to Europe of the US President often include a stop in Eastern Europe's new democracies. The US administration has decided to station forces in Bulgaria and Romania. Hungarian troops helped in Iraq after the March 2003 invasion. Romania Bulgaria and Poland also joined the coalition. But it seems said these countries suffer from a sense of frustration, and believe they have not been sufficiently repaid. For instance Poland's hopes to land contracts in the reconstruction of Iraq have not materialized.

Dogma  - a school of film making in Denmark, had worldwide success, with filmmakers such as Lars von Trier, and Thomas Vinterberg reaping international fame. Now a group of filmakers scriptwriters and producers in Gothenburg is trying to duplicate that success by creating Sweden's first cinema manifesto. They call themselves Doris Film - and their goal is to increase the amount of films directed by women in Sweden.  Radio Sweden's Moira Sullivan caught up with Annika Hellström and Anna Ericsson at a special Women in Film and Television event at the Swedish Film Institute. And asked them how it all started.
What's making the headlines in the European capital? And what's going on behind the scenes? Our EU insider looks back at the week's developments - click here for the latest edition of Brussels Briefing.