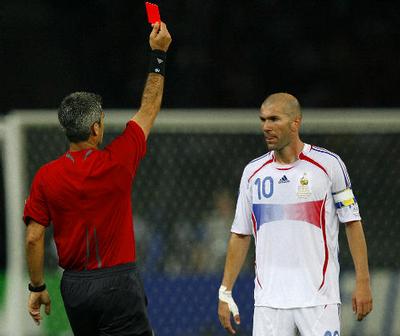 Network Europe
but this week a "head butt" has launched 100 times as many discussions on websites, news programmes and editorial columns. Why did French footballer Zidane head butt Italian Marco Materazzi in the chest? Since the incident during the world cup finals last Sunday, rumours have run rife about what the Italian defender said, to get what's been called an out of character reaction from the French Midfielder. Newspapers and TV channels have hired lip-readers to find out, but they didn't reach the same conclusion. In a TV appearance on Wednesday, Zidane said Materazzi insulted his mother and his sister, without giving any extra details. The star midfielder acknowledged that his gesture was inexcusable, but he said he had no regrets. FIFA has launched an investigation into the incident. In the meantime, Zidane's now notorious head butt has inspired a light hearted song which is set to become a summer anthem in France.
On Thursday, leaders and representatives from more than 20 countries descended on Ceyhan, Turkey's main Mediterranean oil terminal. They are there for the official opening of the world's second longest oil pipeline. The 3 billion euro Baku Tbilisi Ceyhan pipeline runs from Azerbaijan via Georgia to Turkey And will deliver more than million tonnes of oil a week to the world's markets. The oil comes from the Eurasian states of Kazakhstan and Azerbaijan. The region used to be part of the former Soviet Union. And that is why this pipeline is seen as having not only economic importance but political as well. For the United States, one of the pipeline's main political backers, it is seen as a crucial step not only to unlocking urgently needed resources, but also to giving the energy rich region greater independence from its former Russian master.
Now, neighbours is what the Finns and the Estonians has been for centuries - but it has only been since the fall of the iron curtain that the two countries have begun to re acquaint themselves. But for Estonia, as the borders come down and people, goods and services flow freely back and forth - the problem of brain drain has leapt onto the political agenda.
And we now visit the Czech Republic, where an organisation that helps the blind staged an event at the Karlovy Vary film festival that has just come to a close. The aim was to bring visitors closer to the life of the visually impaired.
You usually go to your library to borrow a book. How about borrowing a human being instead? Maybe an obese person, a bouncer, a Moslem or why not a politician? Then you should head to the Swedish Travelling Exhibition's Prejudice Library.
What's making the headlines in the European capital? And what's going on behind the scenes? Our EU insider looks back at the week's developments - click here for the latest edition of Brussels Briefing.