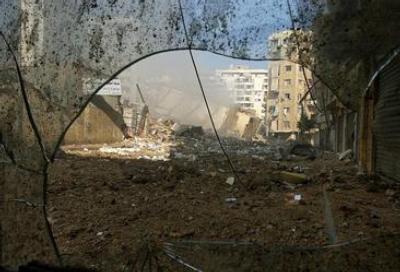 Network Europe
As Israel's military campaign against the Hezbollah in Lebanon continues, the European Union is also increasing its efforts to bring about a cessation of hostilities as soon as possible. Radio Sweden's Azariah Kiros takes a closer look at the conflict - its roots and repercussions.
Those first moments of Beirut's airport being blasted by Israeli fighter-bombers were for many on site, one more chapter in a long history of conflict. Many Lebanese were determined to stay put even as tourists swarmed to evacuate. Our reporter Serena Möller was one of them.
Many Poles boarded government planes, landing in Syria. But as we'll hear from Michal Zajac in Warsaw, not everyone packed their bags.
Cologne is housing German-Lebanese refugees in temporary shelters. Despite the problems that now face her, one mother is thankful to have gotten her family to safety. Deutche Welle's Kirsten Rulf hears how this family of six escaped with just one suitcase.
Tens of thousands of evacuees streamed into the usually sleepy holiday resort of Cyprus. How are residents coping? Our correspondent Tabitha Morgan reports on their calls for international help.
Romania has repatriated three quarters of its citizens from Lebanon. But in Northern Israel, most Romanian immigrants have chosen to stay. Radio Romania International files from Bucharest.
... is in top gear. Paris has been careful to adopt a balanced approach, sending ministers both to Lebanon and Israel. And this week the French president outlined a detailed plan for a durable ceasefire. But does the Lebanese community in Paris approve of the French approach? Radio France International's Nick Champeaux takes up the story.
What's making the headlines in the European capital? And what's going on behind the scenes? Our EU insider looks back at the week's developments - click here for the latest edition of Brussels Briefing.